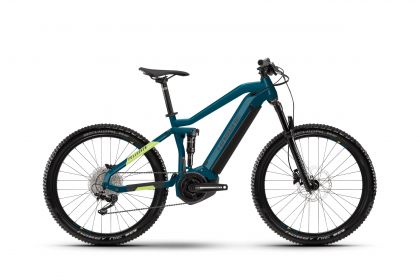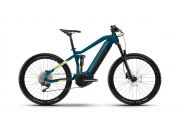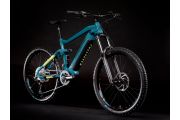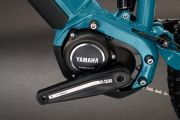 Availability:
Only %1 left
Specifications
Electric System

Motor
Yamaha, PW-ST System
Motor Type
Central
Motor Power
250W, 70 Nm
Motor Support Limit
25 km/h
Battery
Yamaha, InTube
Battery Type
Li-Ion
Battery Capacity
500 Wh
Display
Yamaha, Side Switch, 1.7" LCD, 7 functions

Frame

Colors
Azul
Frame Type
Haibike, FullSeven Yamaha i500
Frame Material
Aluminium 6061

Shocks

Fork
RockShox, 35 Silver, Steel spring, Travel= 160 mm, Aluschaft 1 1/8 - 1 1/2" tapered, 15 x 110mm thru-axle Boost

Gears

Gears
11 Speed
Derailleur
Shimano, Deore M5100
Shifter
Shimano, Deore M5100, Trigger switch, 11 Speed
Bottom bracket
Integrated in the motor
Crankset
Biela: Haibike Components, The Crank +, Aluminium<br>Plato: Steel, 38 teeth
Cassette
Shimano, M5100, 11 - 51 teeth
Chain
KMC, X11e
Brakes

Brakes
Rear: Tektro, Orion M745 , 180 mm, 4-piston disc brake<br>Front: Tektro, Orion M745 , 203 mm, 4-piston disc brake
Brake handle
Tektro, Orion M745, Aluminium
Discs
Rear: Tektro, TR180 / Front: Tektro, TR203

Wheels

Wheel
27,5''
Rims
Rear: Rodi, Tryp 35, Aluminio, con ojales, borde hueco<br>Front: Rodi, Tryp 35, with eyelets, hollow rim, Aluminium
Tires
Schwalbe, Nobby Nic Performance, 65-584, 27.5 inch, 2.6 inch
Spokes
Sapim, Leader, Black
Front hub
Haibike Components, The Hub ++ , 6-bolt standard
Rear hub
Haibike Components, TheHub ++ Steckachse 12x148, 6-bolt standard

Handlebar and Saddle

Stem
Haibike Components, TheStem ++, A-head, Bar bore: 31.8 mm, 7.0 °
Handlebar
Haibike Components, TheBar +++ Gravity , 780 mm
Headset
Feimin, A-Head Tapered, Aluminium, Cartridge
Grips
Haibike, MTB grips
Saddle
Haibike Components, TheSaddle
Seatpost
Haibike Components, TheSeatpost ++, Aluminium, 31.6 mm

Dimensions and Weights

Maximum load
120.0 kg
Haibike Sduro Fullseven 5.0
DESCRIPTION
Like all Haibike fullsevens, the 5.0 is an electric mountain bike whose cute and beautiful appearance should not confuse us, because it is a strong, powerful and excellently equipped ebike for mountain biking or cross country. With powerful and responsive assistance, full suspension and eleven Deore gears at our disposal, the combination of which we can boast of being unreachable on weekend rides with friends.
The Sduro Fullseven 5.0 model is equipped with the Yamaha PW-ST electric system, more compact and lighter than its PW predecessor, with significantly improved control and regulation of motor use. Now, with the same 250 watts of power, it is capable of generating a nominal torque of 70 Newton meters. Another major improvement is the Yamaha side Switch display with 1.7" screen and 7 functions, which further optimizes the dependence of the power delivered by the motor on the rider's cadence and thus provides assistance above 120 rpm when pedaling (on the previous motor the assistance decreased as soon as the pedaling cadence rose above 80 rpm). On the other hand, a more sensitive freewheel and the doubling of the clamping grooves make the cranks engage much faster and generate a more direct and responsive ride, meaning zero assistance lag and a more finely tuned sensitivity.
The tireless battery that powers the electrical system, with the same dimensions and configuration as its predecessor, now delivers 500 watt hours, while maintaining the ease of side-mounting, no mean feat on frames as tightly designed as this electric mountain bike. It reaches 80% charge in about two and a half hours and full charge in three and a half hours.
The interface or on-board computer is much more robust than ever before, combining its ergonomic character with great beauty and being even more compact. On the Haibike FULLSEVEN 5.0, as on all Haibike MTBs, it is integrated with the stem in a very smart, streamlined design, and is controlled from an angular push-button unit positioned on the handlebars. The fullseven 5.0's on-screen ride and operating information is highly visible while riding, regardless of weather conditions or ambient light, and the buttons have a clear-cut action to avoid confusion during operation.
The hydro formed aluminum tube frame has a Haibike design, strong and original, structured around a central piece where several functions come together: the motor mount, the battery container holder, the shock absorber connection, and the frame's primary pivot point. Inside this piece the motor is protected by a shield made of an extra stable scratch resistant plastic polymer, which will keep it safe even when the rider is moving wildly. If you want to ride wild all the time, this part can be easily replaced.
To make off-road terrain less complicated and to ensure grip and stability, the Sduro Fullseven 5.0 is fully damped with components from the popular RockShox brand. The RockShox rear shock, Deluxe Select Plus, Air, 65.0 mm, supports us with a firm hand through the tough conditions of trial riding. The key to this shock is a smoother and quicker initial actuation, avoiding the harsh reaction during the first impact, usually on other similar shocks. On the fly, we can adjust its performance according to the trail conditions using three preset settings: Open/Medium/Firm.
At the front the RockShox fork, 35 Silver, Steel spring with 160 mm of travel, has a better behavior and reading of the terrain in the travel. Downhill it is absorbing and generates very good sensations, creating the illusion of more travel. Its improved quality helps the feel to flow better, as well as the controls to better adapt to the terrain. Likewise, before the ride, it can be adjusted to the characteristics and preferences of the rider. In a word: fun and maximum performance.
Riding on the wide Schwalbe Nobby Nic performance version tires, 27.5 inches in diameter and 2.6 inches wide, we get a good grip, but above all a reliable performance, as they are not treacherous when it comes to loss of grip and gradually warn us that they are losing it. Designed for a wide range of MTB applications, they are used in XC and Enduro competitions with high technical demands, partly thanks to their sidewall which makes them immune to cuts and blowouts. Rodi TR 35 aluminum rims guarantee the strength and stability of the assembly.
Nor is controlling this Haibike Fullseven 5.0 a problem thanks to the 4-piston Tektro Orion M745 hydraulic brakes, with 203mm front and 180-millimeter diameter rear aluminum discs, we have massive power and control. A new position for the brake lever pivot point, now 20 millimeters closer to the handlebars, offers more linear operation and improved ergonomics of use. In addition, the four-piston calipers are much more effective for more aggressive MTB riding. The "magnetiXchange" technology makes it easier to change the brake linings of the pistons. In short: They are perfect for our hands and their braking performance makes us feel confident.
The drivetrain components on the Fullseven 5.0 are by Shimano, with its 11-speed Deore M5100 system. It is designed for aggressive trail and all-mountain conditions. With its state-of-the-art technology, it keeps the chain taut and eliminates shocks, reducing the chance of chain slippage. Other benefits include reduced noise and rotational drag. Its four-bearing construction provides very smooth and extremely precise shifting performance. It is designed to withstand heavy use and long life under trial conditions. Deore shifting mechanisms are rigid and feature a more finished mechanical workmanship, which in turn increases the durability as well as the quality of gear shifting.