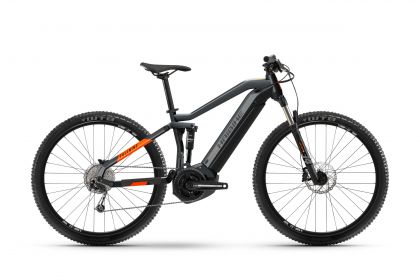 Availability:
Only %1 left
Specifications
Electric System

Motor
Yamaha, PW-ST System
Motor Type
Central
Motor Power
250W, 70 Nm
Motor Support Limit
25 km/h
Battery
Yamaha, InTube
Battery Type
Li-Ion
Battery Capacity
500 Wh
Display
Yamaha, Side Switch, 1.7" LCD, 7 functions

Frame

Colors
Gris
Frame Type
Haibike, FullNine Yamaha i500
Frame Material
Aluminium 6061

Shocks

Fork
SR Suntour, XCM34 LOR, Lockout, Steel spring, Travel= 100 mm, Aluminium steerer tube 1 1/8" - 1 1/2" tapered, 15 x 110mm thru-axle Boost
Rear Shock
SR Suntour, Edge LO-R8, Air

Gears

Gears
10 Speed
Derailleur
Shimano, Deore M5120
Shifter
Shimano, Deore M6000, Rapidfire, 10 Speed
Bottom bracket
Integrated in the motor
Crankset
Biela: Haibike Components, The Crank +, Aluminium<br>Plato: Steel, 38 teeth
Cassette
Shimano, M4100, 11 - 46 teeth
Chain
KMC, e10S
Brakes

Brakes
Rear: Shimano, MT400, 180 mm, 2-piston disc brake<br>Front: Shimano, MT400, 180 mm, 2-piston disc brake
Brake handle
Shimano, MT401, Aluminium
Discs
Rear: Shimano, RT30-M / Front: Shimano, RT30-M

Wheels

Wheel
29''
Rims
Rear: Rodi, Tryp 35, Aluminio, con ojales, borde hueco<br>Front: Schürmann, Yak25, with eyelets, hollow rim, Aluminium
Tires
WTB, Ranger Comp, 55-622, 29" x 2.30"
Spokes
Sapim, Leader, Black
Front hub
Shimano, MT400-B, Centerlock
Rear hub
Shimano, MT400-B, Centerlock

Handlebar and Saddle

Stem
Haibike Components, TheStem ++, A-head, Bar bore: 31.8 mm, 7.0 °
Handlebar
Haibike Components, TheBar +++ Gravity , 780 mm
Headset
Feimin, A-Head Alloy Tapered, Aluminium, Cartridge
Grips
Haibike, MTB grips
Saddle
Haibike Components, TheSaddle
Seatpost
Haibike Components, TheSeatpost ++, Aluminium, 31.6 mm

Dimensions and Weights

Maximum load
120.0 kg
Haibike FullNine 4 2021
Description:
The Haibike FullNine 4.0 is an electric bike capable of showing great skills such as speed and elegance when riding our cross-country routes in the most inhospitable places. Its 29-inch wheels, full suspension and powerful assistance will allow you to amaze more than one with its power and maneuverability off-road, and will make you feel like you're moving through much less rough terrain.
Its aluminum frame, called the FullNine Yamaha i500, maintains the style of the more equipped models in the same range. This makes the full nine 4.0 one of the most attractive prototypes in the quality-price range.
The HAIBIKE FULLNINE 4.0 has a powerful and very reactive electric system, conceived for those who combine a taste for the spirit of cycling (receiving assistance only while pedaling), with the possibility of having the maximum torque available without rotation of the cranks (the "zero cadence/maximum torque potential" concept supported by Yamaha for many years). If we combine this condition with the diameter of the wheels of this bike, then we are in the presence of a true mountain biking bolide. This bike is equipped with the PW-ST electric system, the heart of which is one of the smallest and lightest central motors on the market, with an output of 250 watts and a stable torque of 70 Newton meters. This assistance power can be selected rationally according to personal preference and road conditions.
To achieve a powerful and energetic yet smooth and natural feel, the system has three sensors (torque, cadence and speed), which instantly and accurately detect the conditions of the rider's gait and movement, gathering the necessary information to ensure continuous assistance in all road conditions.
Powering the electrical system is a 500 Watt-hour battery, hidden inside the frame in a Yamaha-designed casing and fitted with a four LED display that provides information on the residual charge in steps of 25 %. Its total charging time is around 3.5 hours and it can reach 50 % of its capacity in just one hour. It comes with an IPX4-compliant charger, characterized by its relatively small dimensions and in particular its water resistance.
All these electrical possibilities are controlled by an on-board computer with Yamaha LCD display, Side Switch, 1.7", ergonomically positioned vertically on the handlebars. Here we are kept informed about the most important parameters of the ride as well as about the operation of the Heike fullNine 4.0. From the buttons on a control unit attached to the handlebars, you can select the parameters offered by the system without moving your hands.
Its 29-inch Schürmann Yak25 aluminum rims, in combination with WTB Ranger Comp tires, 55-622, 29" x 2.30", provide enough strength and flexibility to tip the bike into corners and descents with stability or to tackle rough terrain in the most difficult mountain situations to squeeze out the fun.
To lessen the effect of uneven off-road terrain, the Sduro FullNine 4.0 has full suspension with components manufactured by SR Suntour. The SR Suntour XCM34 DS Boost, a Steel spring fork with 100 millimeters of travel, designed for sporty cross-country riding, is equipped with a lockout. The rebound speed control is also used to adjust the damping response to suit the terrain.
On the frame, the bike has an SR Sun tour, Edge LO-R8, Air shock, designed for cross-country or light trail riding. It has rebound adjustment during the ride and the possibility of locking it completely on level sections.
The drivetrain components are designed to withstand the reactive power from the very start, as well as the difficult shifting conditions of MTB, all especially augmented by the 29-inch diameter of the wheels. They are of the Shimano Deore M6000 10-speed type, and include two of the main technological innovations introduced by that firm in recent years, with its low profile reducing the risk of damage to the chain drive linkage, as well as its wobble in rough terrain; and the Rapid Fire shifter, guaranteeing easy, fast and precise shifting.
Nor will there be any worries about stopping the fullNine 4.0. Its brakes, two-piston Shimano MT400, one of the leading brands on the market in this branch, are hydraulic, with 180-millimeter diameter aluminum discs on both wheels. Its dual-piston system is reliable and very effective both in full braking and in soft touches to regulate speed.
The hubs of this top-selling electric mountain bike are also Shimano MT400 centre-lock hubs that ensure a smooth and smooth ride.