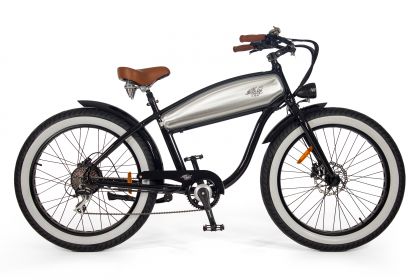 0

1

2

3

4

5

6

7

8

9

10

11

12

13

14

15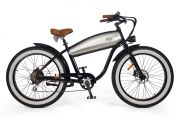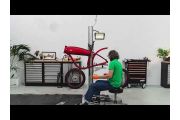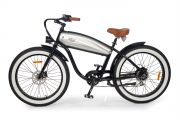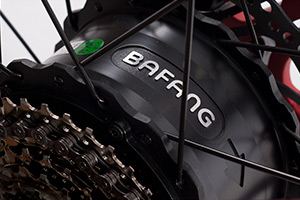 Bafang Motor
Reliable, efficient and powerful. 250W(45Nm) and 500W(80Nm) versions available to provide you the needed assistance for an effortless ride.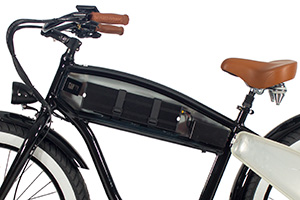 Internal Battery
Hidden inside the frame and secured with a key lock. Charge in place or remove it easily. Made from Samsung cells, capacities from 370Wh (36V/10Ah) to 1100Wh (36V/30Ah).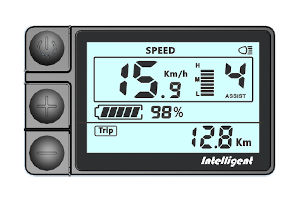 450U LCD Display
5 levels of pedal assist, Odometer, Trip time and distance, Battery capacity indicator, High contrast, Adjustable back light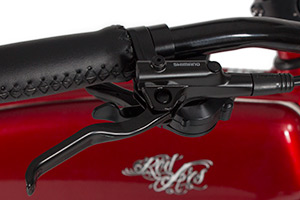 Hydraulic Disk Brakes
Simple to maintain and easy to use. Less effort to brake, resulting in shorter stopping distances and a more comfortable ride.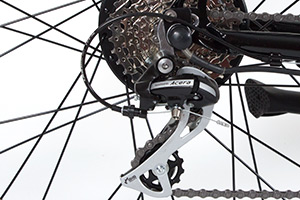 Shimano Acera 8 Speed
Double Servo rear derailleur with smooth, precise shifting performance and wide-range capability. Helps you ride challenging terrain with fewer interruptions.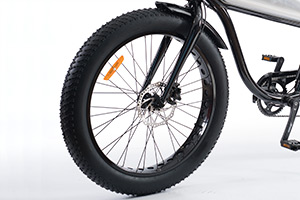 Fat Tyres 4''
Extra stability, comfort and traction. Better able to absorb the vibrations from poorly surfaced roads to provide a smoother ride.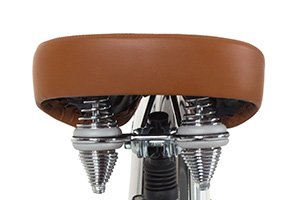 Comfortable Saddle
Ergonomic wide cushion pad saddle, with suspension coil springs and dual density foam padding. Plush comfort so you can sit back and enjoy every ride.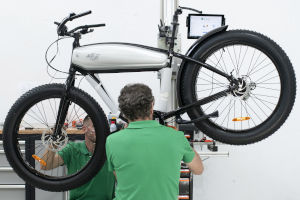 Custom Made
Made to order and hand assemble part by part, with the options you selected and the greatest attention to detail. Your e-bike, made to measure
Specifications
Electric System

Motor
Bafang
Motor Type
Rear / Central
Motor Power
250W (45Nm) / 500W (80Nm) / 1000W (160Nm)
Battery Type
Li-Ion
Battery Capacity
415Wh (36V/11,2Ah) / 575Wh (36V/15,6Ah) / 775Wh (36V/21Ah) / 910Wh (48V/17,5Ah) / 1090Wh (48V/21Ah)
Battery Brand
Samsung
Battery Voltage
36V / 48V
Display
LCD Digital 450u (5 speeds) / LCD Colour 850C (9 speeds)
Hand Throttle
Optional

Frame

Frame Sizes
S / M / L / XL
Frame Material
Aluminium 6061

Shocks

Fork
Hard / RST Fatbike

Gears

Gears
8 Speed
Derailleur
Shimano Acera
Shifter
Shimano M315
Crankset
42T
Cassette
11-34T
Chain
KMC

Brakes

Brakes
Shimano MT200
Brake handle
Shimano BL-MT200
Discs
160 mm \ 180 mm
Wheels

Wheel
S-M: 24" / L-XL: 26''
Rims
Aluminium double wall
Tires
Kenda 26" x 4,0"
Spokes
Carbon steel with copper reinforced heads
Front hub
Quando

Handlebar and Saddle

Stem
1"1/8 Ahead 25,4mm Adjustable in height and angle from 0º to 60º.
Handlebar
Cruiser
Headset
1"1/8
Saddle
BLK spring
Seatpost
XL - Promax suspension / L - Promax suspension / S - Classic

Accessories

Front Light
LED
Rear Light
LED
Pedals
Wellgo Platform Cruiser
Mudguards
Metal
Kickstand
Kickstand
Luggage Rack
Optional

Dimensions and Weights

Height
118 cm
Lenght
202 cm
Width
74 cm
Handlebar Height
Min: 112 cm / Max: 118 cm
Saddle Height
Min: 94 cm / Max: 106 cm
Outlaw Electric Bicycle
Description Vintage electric
Vintage Outlaw electric bike equipped with comfortable 26-inch-wide wheels, internal Samsung battery, and high-quality components. The intoxicating feeling of riding from the top of elegance with its powerful electric motor makes this electric cruiser bike a unique pleasure to ride.
Electric bikes with Fat wheels are the latest trend in cycling and for good reason, getting around on a bike, whatever the terrain, is relegated to the background when you get on 4-inch-wide balloon tires, just over 10 centimeters thick and 8 centimeters high, powered by a powerful electric motor, you'll have no problem taking on whatever you find on the way to your destination. 
The design of the Kenda Juggernaut tires offers a larger contact surface with the ground, you'll feel them glide over potholes, over rough unpaved roads, through thick snow, dense mud, or fine sand, or even hit a curb on our urban rides without missing a beat. A suspension system that will delight anyone who dares to ride through the urban jungle on an electric Fatbike cruiser. The tires are mounted on double-wall rims with steel reinforced spokes and copper-plated heads.
Not all the comfort available on the Outlaw comes from the prominent tires. Equipped with an eye-catching 6061 aluminum cruiser frame, its advantageous geometry makes it a pleasure to ride, keeping your back straight and your arms resting on both sides on the ergonomic cruiser handlebars.
The frame is fitted with a box in the center to protect the standard 11.2ah Samsung battery and the 15 Amp controller for the 250w model and 22 Amp for the 500w model. In the central recess, we have enough space to mount a more powerful battery, up to 21ah.
This unconquerable beauty is driven by the energetic 8fun 250w and 45Nm motor located in the rear wheel axle, with a choice between 250w and 500w versions, although a higher power motor can be fitted, the 48v x 1000w Bafang central motor, giving the whole unit a power output of 160 Newton meters. We also have the option to order the Outlaw model with an integrated central motor.
From the on-board computer, a digital display with 5 levels of assistance, we manage the entire electrical system, we also have functions such as limiting the maximum speed, the legal accelerator that drives us up to 6 km / h, or knowing the valuable parameters concerning the route and various other functions.
To pedal to the rhythm of the power delivered by the electric system and to be able to get through any environment without jurisdiction that this outlaw takes us to, we have a Shimano Acera 8-speed derailleur system, connected by a reinforced KMC chain.
The Outlaw vintage electric bike has an indomitable character and to stop this beast we have the invaluable help of Shimano MT200 hydraulic brakes with 160mm discs on the rear wheel and 180mm on the front wheel. Shimano M375 mechanical brakes are also at our disposal where it is possible to assemble sensors with a signal cut-off on both levers, in case of pressing them, even slightly, it will cut the supply to the motor preventing it from working.
Whatever the terrain we ride, the metal mudguards that give the whole thing presence will keep us protected, the suspension located on the seat post will mitigate the irregularities of the terrain that the fat tires are not able to eradicate, it is also possible to request the mounting of a front suspension. 
The option to attach the sturdy rear rack capable of carrying loads of up to 25kg. The extra-large LED headlight, taillight, and matching vintage bell complete the set-up of this fat wheel electric cruiser that lacks nothing in detail.