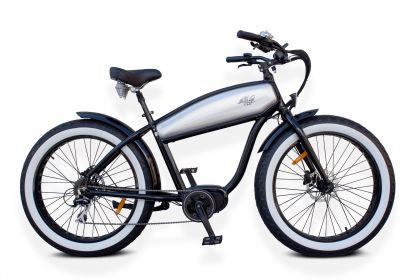 0

1

2

3

4

5

6

7

8

9

10

11

12

13

14

15

16

17

18

19

20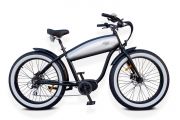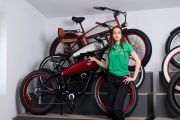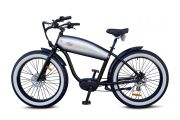 Outlaw RS - Central Motor
Availability:
Only %1 left
Specifications
Electric System

Motor
Bafang
Motor Type
Central
Motor Power
350W (80Nm)
Battery Type
Li-Ion
Battery Capacity
415Wh (36V/11,2Ah) / 575Wh (36V/15,6Ah) / 775Wh (36V/21Ah)
Battery Brand
Samsung
Battery Voltage
36V
Display
LCD Digital DP C07 (5 speeds)
Hand Throttle
Optional

Frame

Frame Sizes
S / M / L / XL
Frame Material
Aluminium 6061

Shocks

Fork
Hard / RST Fatbike

Gears

Gears
8 Speed
Derailleur
Shimano Acera
Shifter
Shimano M315
Crankset
42T
Cassette
11-34T
Chain
KMC

Brakes

Brakes
Shimano MT200
Brake handle
Shimano BL-MT200
Discs
160 mm \ 180 mm
Wheels

Wheel
26''
Rims
Aluminium double wall
Tires
Kenda 26" x 4,0''
Spokes
Carbon steel with copper reinforced heads
Front hub
Quando

Handlebar and Saddle

Stem
1"1/8 Ahead 25,4mm Adjustable in height and angle from 0º to 60º.
Handlebar
Cruiser
Headset
1"1/8
Saddle
BLK spring
Seatpost
XL - Promax suspension / L - Promax suspension / S - Classic

Accessories

Front Light
LED
Rear Light
LED
Pedals
Wellgo Platform Cruiser
Mudguards
Metal
Kickstand
Kickstand
Luggage Rack
Optional

Dimensions and Weights

Height
118 cm
Lenght
202 cm
Width
74 cm
Handlebar Height
Min: 112 cm / Max: 118 cm
Saddle Height
Min: 94 cm / Max: 106 cm
Maximum load
150 Kg
Outlaw Urban Electric Bicycle Central Motor
Description Outlaw central motor
The Outlaw urban e-bike creates the ultimate riding experience and looks spectacular. Let yourself be seduced by the thrilling thrill of pedaling from the culmination of style, with its powerful mid-motor, making this Urban e-bike a superb riding delight.
Thanks to the wide tires you will have a good grip in the most difficult weather conditions. For journeys between civilizations, the Outlaw electric city bike is the right choice. With its powerful rollers, the wide and comfortable saddle and handlebars, and spectacular wheels you will feel safe and comfortable for a relaxed ride through the city. Be the king on the road and enjoy the envious looks of those around you.
The fantastic 6061 aluminum frame with a 5-year warranty has been developed with geometry in mind, it offers an impeccable and refined riding position, riding with a straight back in its natural posture, arms relaxed resting on the comforting ergonomic cruiser handlebars we can tackle any distance without fear of fatigue while savoring the simple pleasure of riding a bike.
The Outlaw mid-motor urban electric bike is not a bike built to simply turn heads, it will be the ultimate vehicle to be used for long rides on the beach, tackling the roughest of terrain conditions, getting stuck in thick mud, or traversing your daily snow-covered routes, moving where no one else can.
Vintage looking electric bike equipped with a powerful central motor integrated into the frame 350w and 80Newton meter ingeniously integrated into the center of the frame, located in its lowest position adding the weight that the motors contribute to the set in the smartest possible area, as we get our center of gravity down considerably achieving a unique driving sensation, riding this machine you will be intoxicated by its conquering character.
The lithium battery of the prestigious and renowned high-quality brand Samsung with high-density cells power the electrical system, conditions that we will enjoy year after year because the quality and reliability that Samsung cells treasure is beyond doubt. With it, you can be sure of maximum performance over time.
The onboard computer for controlling Outlaw's mid-engine electrical system is provided by the unique Bafang DP C07 digital display integrated into the center of the handlebars for a perfect display of valuable data. It has five different levels of assistance, with a button panel located in the position closest to the left hand so you can interact with the digital display without losing control as you ride. Robust, reliable, and very resistant, it works in temperatures between -20º and + 45º with an impressive 3" screen that will make sure we don't miss any relevant data on our journeys. Provided with the highest protection to withstand water IP X5, we can consult all the data concerning the route, among many other functions has available the legal accelerator system that drives us up to 6km / h without pedaling.                                                                     
Three intelligent sensors, torque, and speed rotation will at all times anticipate our needs at every precise moment of the route, a fabulous display of ingenuity and quality put within our reach in this high-performance urban electric bike, where pedaling becomes a refined pleasure while the ingenious deployment of sensors levels the path that we find in our path.
The extraordinary 26" x 4.0" Fat wheels are ideal so that no obstacle in the terrain can hold you back - riding in the city or on any kind of terrain is within reach with tires that have a personality of their own. Combined with the double-wall aluminum rims and the overall design of the bike, they are sure to attract envious glances.
A proven, high-end Shimano Acara 8-speed gear system provides the necessary tools to keep up with this electric creature with an untamed attitude designed to pedal with style and an eye on the horizon, the 11-34 rear cassette sprockets working in harmony with the central motor will give you the necessary cadence range to tackle any terrain with maximum guarantees.
To control the temperament of the mid-engine Outlaw we have at our disposal the spectacular Shimano MT200 hydraulic brakes, one of the best models, within the Shimano range, available for urban bikes, chosen by the top brands for their models for their refined quality and performance. Shimano M375 mechanical brakes are also available. 180mm front and 160mm rear aluminum discs.
Not only style, personality, exceptional geometry, and great performance are on display on the mid-motor Outlaw, but the other parts are also in tune, the comfortable BLK seat with springs assembled on the Promax central suspension of the seat post will mitigate any irregularities or setbacks that we encounter to protect us from any inconvenience. A front suspension can also be ordered during assembly for speeding through the roughest terrain imaginable, and for a model that's designed to be one of the best urban electric design bikes around, this is a brilliant and remarkable capability.
The modern and elegant metal mudguards and the metal chain guard will accompany us on any journey safeguarding our integrity to arrive impeccably at our destination. Front and rear LED light, unique Vintage bell, and the option to mount a rear rack to carry loads of up to 25 kilos complete the design of this memorable and notorious urban electric model, get on the back of this wonder and enjoy the culmination of urban electric bikes while you move with unique attitude and style that only you can conquer.