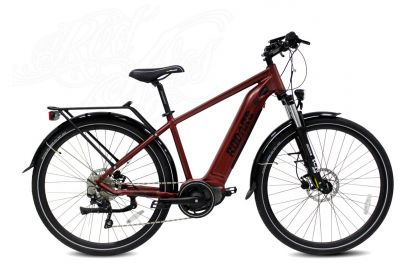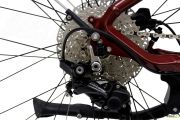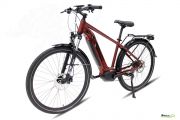 Specifications
Electric System

Motor
Bafang
Motor Type
Central
Motor Power
350W (80Nm)
Battery Type
Li-Ion
Battery Capacity
420Wh (36V/11,2Ah) / 650Wh (36V/17,4Ah)
Battery Brand
Samsung
Battery Voltage
48V
Display
LCD Colour 850C (9 speeds)

Frame

Frame Sizes
M / L / XL
Frame Material
Aluminium 6061

Shocks

Fork
Suntour XCM 120 mm

Gears

Gears
10 Speeds
Derailleur
Shimano Deore
Shifter
Shimano Deore M6000 10V
Crankset
44T
Cassette
11-36T
Chain
KMC

Brakes

Brakes
Tektro HD-E350 Hidr.
Brake handle
Tektro HD-E350 Hidr.
Discs
180 mm \ 180 mm
Wheels

Wheel
28"
Rims
Aluminium double wall
Tires
Schwalbe 28" x 2,125"
Spokes
Carbon steel with copper reinforced heads
Front hub
Quando

Handlebar and Saddle

Stem
Promax 1"1/8 Ahead 31,8mm
Handlebar
ZOOM
Headset
1"1/8
Saddle
Velo Plush
Seatpost
Classic

Accessories

Front Light
LED
Rear Light
LED
Pedals
Wellgo Platform MTB
Mudguards
Black flexible PVC
Kickstand
Kickstand
Luggage Rack
Optional

Dimensions and Weights

Height
112 cm
Lenght
188 cm
Width
72 cm
Handlebar Height
112 cm
Saddle Height
Min: 82 cm / Max: 102 cm
Cygnus electric bicycle
Description Cygnus electric trekking.
The Cygnus is one of the most obvious examples of Rodars' intention to give sporty mobility to all its electric bikes. It is a fast-electric trekking bike capable of leaving behind all our problems accumulated during the week, whose surprisingly long-range will extend our out-and-back fun, while we ride relaxed thanks to its electronic gear shifting system that will take the stress for us. If the chosen itinerary includes climbs or other weather difficulties, its powerful performance will allow us to overcome them like any world-class professional champion.
The Bafang assistance system has a central motor that provides a high-power output of 350 watts, a maximum torque of 100 Newton meters, high efficiency, and consistent reliability. Its technology provides three sensors (torque, cadence, and speed), informing the system with hundreds of measurements per second, achieving an unparalleled response, while providing smooth and rhythmic assistance with our push on the pedals, allowing the rider a natural driving increasing their physical limitations. To regulate the effects of all this power when shifting gears, the system has a function that reduces the engine torque during shifting, thereby significantly reducing damage to drivetrain components. Five levels of assistance, which can be extended to 9, allow us to control the engine rationally according to the requirements of the route and our personal preferences, thus facilitating the development of our physical capabilities and saving energy.
For pedaling on favorable trails with a potential range of up to 150 kilometers, we have a Samsung lithium battery capable of providing 650-watt hours. This is one of the models with the longest range among the best selection of electric trekking bikes. Although this parameter depends in practice on a lot of factors and is always calculated with the lowest assistance level, it is a promise of all-day fun on a single charge. The battery's energy density is among the most common on the market today, its weight is light, and the location of its shock-proof protective casing on the down tube contributes considerably to the bike's maneuverability. It can be fully charged in four and a half hours and reaches 50 % of its full capacity in one and a half hours. In addition, the Battery Management System (BMS) ensures efficient use by protecting the battery against overcharging, under-voltage, overheating, or short circuits, which, together with the advantage of lithium batteries that they have no memory effect and can therefore be charged at any time, make them very practical to use and increase their efficiency, This makes their use very practical and increases their useful life, although if increasing their useful life is our main preference, you should never charge the battery if it is not completely discharged, as each recharge without taking full advantage of it wastes the remaining charge and we spend one more cycle of life than 1000 that the manufacturers usually recommend for high-quality lithium batteries.
In the same way as a jet pilot, you control all these technological possibilities via the LCD on-board computer, located on the handlebars. Switching between the five assistance levels, switching on the walk assistance (an option that makes it easy to carry the bike in your hand on the commute or to use it as a lay-on throttle, propelling the electric bike up to six kilometers per hour), as well as viewing trip information such as speed, charge status, distance, and much other information will be at our disposal via the LCD. The five assistance modes can be easily and conveniently selected via a separate control, without removing one hand from the handlebars. A USB port allows us to charge portable devices such as smartphones and music players.
The aerodynamic 6061 aluminum frame, among other factors, keeps the weight of this Bulls electric trekking bike under 22 kilograms, competing at a low weight with the most prominent high-end models on the market today.
Riding on board the Cygnus is fun and relaxing, thanks to the Shimano Deore 10-speed gear system, which is at our disposal to rejoice on long, intense climbs while maintaining a stable pedaling rhythm. Shifting will be very precise and fast in all weather conditions or under heavy load, with no effort, no friction, no power loss, no delays, no need for adjustments. 
The Shimano MT200 hydraulic brake system is a novelty that has managed to make a place for itself very quickly in the market, as all top-of-the-range models are fitted with them. Equipped with 160-millimeter diameter discs on both wheels, they guarantee enough power to stop and control this cruiser. They maintain excellent braking performance independent of weather conditions thanks to the braking power, which can be customized according to pedaling conditions, terrain, and personal characteristics. 
Mounted on stiff rims developed for speed are special road tires, with a smooth rolling profile that makes riding on open roads or forest tracks a pleasure. Although conceived for trekking cycling, the Cygnus rides on wider tires between 28 inches in diameter by 2.1 inches wide, designed for gravel, cobblestone roads, and rough terrain in general, where no conventional road bike could venture, which gives the Cygnus electric trekking bike additional grip in our explorations on any type of terrain, so nothing limits your adventure.