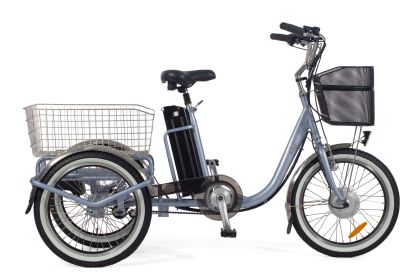 0

1

2

3

4

5

6

7

8

9

10

11

12

13

14

15

16

17

18

19

20

21

22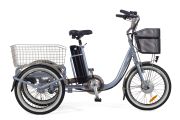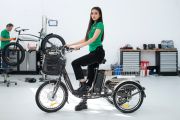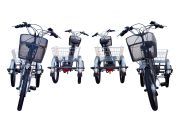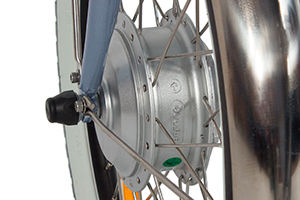 Bafang Hub Motor
Small in size, light in weight, high in efficiency and smooth & quiet running. 250W(45Nm) and 500W(80Nm) versions available.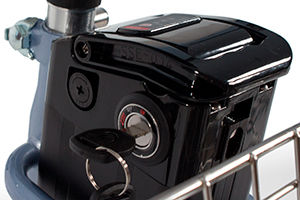 Removable Battery
Batteries made from Samsung cells with capacities ranging from 370Wh (36V/10Ah) to 925Wh (36V/25Ah). Easy to remove or charge in place.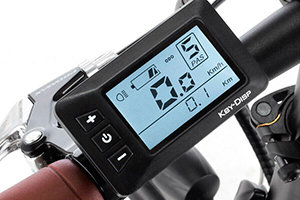 KD21C LCD Display
Back lighten display with 5 levels of pedal assist. Tracks your total mileage, trip, speed and battery charge. Turns headlight On/Off.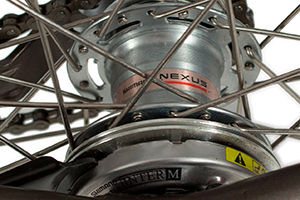 Shimano Nexus 3v
Internal gears allow you to change gear without pedaling, perfect for urban cycling. Smoother shifting and less maintenance.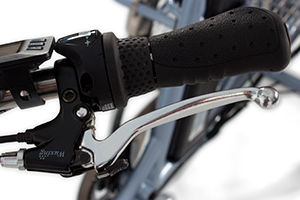 Parking Brake
To engage squeeze the brake lever, press the button and release the lever. To disengage, squeeze the brake lever and the locking button releases.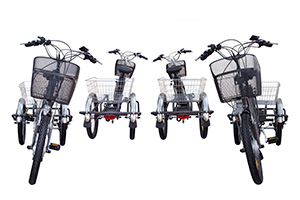 Tilting Frame
The front of the trike connects to the rear via a pivot axle that allows it to tilt as if it was a normal bike, while the rear remains fixed to the ground.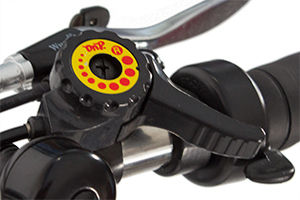 Frame Lock Lever
A handle located on the handlebar allows you to lock the frame on the vertical position while stopped or parked.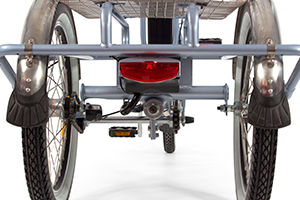 Narrow Frame
It's narrow width (66cm.) mean your tricycle will easily slip through tight spaces or any standard-width door frame.
Specifications
Electric System

Motor
Bafang
Motor Type
Front
Motor Power
250W (45Nm) / 500W (80Nm)
Battery Type
Li-Ion
Battery Capacity
415Wh (36V/11,2Ah) / 575Wh (36V/15,6Ah) / 755Wh (36V/20,3Ah) / 905Wh (36V/24,5Ah)
Battery Brand
Samsung
Battery Voltage
36V
Display
LCD Digital KD21C (5 speeds)
Hand Throttle
Optional

Frame

Frame
Handlebar tilt and stability control
Frame Material
Aluminium 6061

Gears

Gears
3 Speed
Derailleur
Shimano Nexus
Shifter
Nexus S41 RevoShift 3V
Crankset
38T
Chain
KMC

Brakes

Brakes
Shimano Hub \ V-brake Tektro
Brake handle
83PDD with parking stop
Discs
Drum \ V-Brake
Wheels

Wheel
20"
Rims
Aluminium double wall
Tires
Kenda 20" x 1,95" \ Kenda 20" x 1,75"
Spokes
Carbon steel with copper reinforced heads

Handlebar and Saddle

Stem
1"1/8 Adjustable Height
Handlebar
City/Comfort Double Height
Headset
1"1/8
Saddle
Cruiser Gel
Seatpost
Promax suspension

Accessories

Front Light
LED
Rear Light
LED
Pedals
Wellgo Platform City
Mudguards
Metal

Dimensions and Weights

Height
105 cm
Lenght
170 cm
Width
66 cm
Handlebar Height
Min: 96 cm / Max: 108 cm
Saddle Height
Min: 84 cm / Max: 98 cm
Other
Rear Box: L 50 cm x W 50 x H 24 cm / Front Basket: L 28 cm x W 35 cm x H 29 cm
Maximum load
150 Kg.
The electric tricycle for adults Eureka is an excellent choice for those who want to ride in comfort and safety. It is ideal for people with reduced mobility, for those who have never learned to ride safely on two wheels.
The curved and reinforced design of the frame and its low height (98 centimeters maximum saddle height), make the access to the tricycle very easy and convenient. The 64 centimeters of width between its rear wheels will allow you to move through tight spaces or difficult routes.
It can also appeal to companies or individuals who need to make frequent short trips with cargo, as its sturdy 6061 aluminum frame can withstand up to 150 kg in total, taking into account the capacity of both baskets.
Riding with cargo will never again be an effort beyond what is feasible: Bafang's brushless front motor with 250 Watts of nominal power, 612 of maximum power, and a torque of 45Nm will provide the extra thrust needed to make the trip a smooth ride, and if you need more power to tackle steep slopes, the 500w option with a higher capacity battery allows you the freedom to ride using the throttle rather than using your legs, if you are unable to do so due to an injury or any other reason.
The Eureka electric trike is equipped with a system to control the tilt, easily operated from the handle located on the handlebar. With this system the user has at his disposal the possibility of allowing the tricycle to tilt, as if it were a bicycle, but without losing balance, since the three wheels remain fixed to the ground. Thanks to this the turns will not be complicated, avoiding the possibility of tipping over with the electric trike if the speed is higher than recommended at that moment or if we have reduced mobility and we find it difficult to stay upright in the rigid trike, thanks to the tilt system allows us a slight swing to better adapt to the trike and the conditions of the road, an option that few or no electric tricycles for cargo or transport, has on the market.
By selecting through the five assistance adjustment options, and the switching offered by the internal Shimano Nexus 3i gear shifting system, the driver can pedal rationally according to the conditions of the route and his personal style. In turn, the 10.4 Amp Samsung Li-ion batteries provide the power needed to ride up to 25 kilometers per hour, while ensuring an excellent range of 40-55 kilometers in the worst case, varying according to the route and the use of assistance. The intelligent charger quickly performs the complete charging process in 4.5 to 5 hours.
The on-board computer on the handlebars, with a legible and intuitive LCD display, provides the fundamental trip data (current speed, whether the legal throttle is activated, limiting the maximum speed, etc.), as well as allowing control of the assistance parameters and other functions such as turning on the lights.
The combination of Tektro "V" brakes on the front wheel and Shimano drum brakes on the rear wheels ensures the maneuverability of this small and energetic pack pony, both when moving in tight spaces and during full braking. The sturdy 20-inch diameter wheels, shod with sturdy and flexible Kenda tires, are responsible for the grip in turns and the transmission of thrust when moving, 1.75 inches wide at the front and 1.95 inches at the rear.
Finally, two features do not go unnoticed in this electric tricycle for adults. On the one hand, despite its small dimensions, the height adjustment of the saddle and handlebars allows both short adults and medium height people to ride, with the possibility of riding with the back upright for greater comfort and better thrust application. Similarly, its two baskets, the front one with a flirtatious design and the rear one much stronger, are positioned to provide stability while riding.