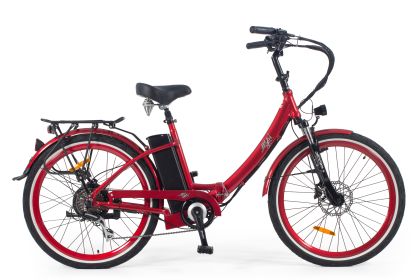 0

1

2

3

4

5

6

7

8

9

10

11

12

13

14

15

16

17

18

19

20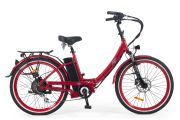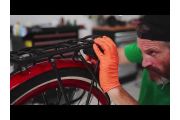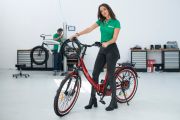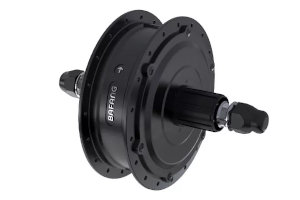 Bafang Motor
Reliable, efficient and powerful. 250W(45Nm) and 500W(80Nm) versions available to provide you the needed assistance for an effortless ride.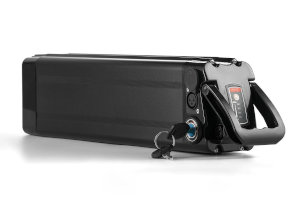 Removable Battery
Made from Samsung cells with capacities ranging from 370Wh (36V/10Ah) to 925Wh (36V/25Ah). Easy to remove or charge in place.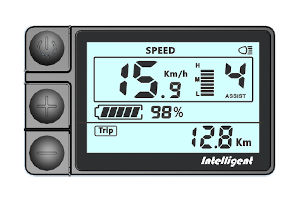 450U LCD Display
5 levels of pedal assist, Odometer, Trip time and distance, Battery capacity indicator, High contrast, Adjustable back light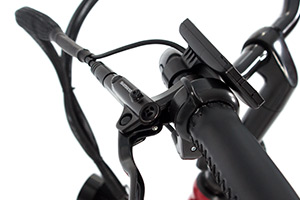 Hydraulic Disk Brakes
Simple to maintain and easy to use. Less effort to brake, resulting in shorter stopping distances and a more comfortable ride.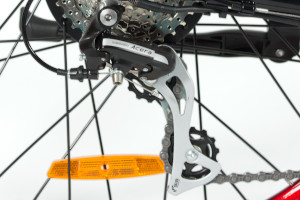 Shimano Acera 8 Speed
Double Servo rear derailleur with smooth, precise shifting performance and wide-range capability. Helps you ride challenging terrain with fewer interruptions.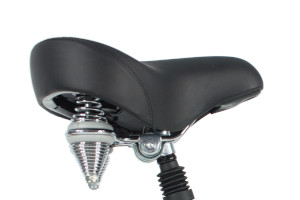 Comfortable Saddle
Ergonomic wide cushion pad saddle, with suspension coil springs and dual density foam padding. Plush comfort so you can sit back and enjoy every ride.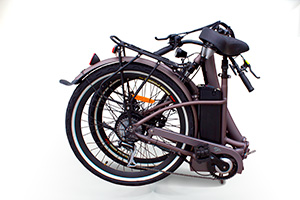 Folding Frame
Convenient storage and transportation. The quick-release folding mechanism makes it easy to take your bike from storage to the road in less than a minute.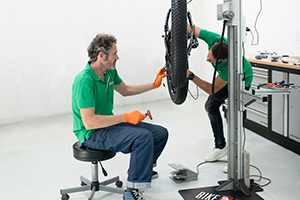 Custom Made
Made to order and hand assemble part by part, with the options you selected and the greatest attention to detail. Your e-bike, made to measure
Specifications
Electric System

Motor
Bafang
Motor Type
Rear
Motor Power
250W (45Nm) / 500W (80Nm)
Battery Type
Li-Ion
Battery Capacity
415Wh (36V/11,2Ah) / 575Wh (36V/15,6Ah) / 757Wh (36V/21Ah) / 905Wh (36V/24,5Ah)
Battery Brand
Samsung
Battery Voltage
36V
Display
LCD Digital 450u (5 speeds) / LCD Colour 850C (9 speeds)
Hand Throttle
Optional

Frame

Frame Sizes
S / M / L / XL
Frame Material
Aluminium 6061

Shocks

Fork
ZOOM 63 mm

Gears

Gears
8 Speed
Derailleur
Shimano Acera
Shifter
Shimano M315
Crankset
42T
Cassette
11-34T
Chain
KMC

Brakes

Brakes
Shimano MT200
Brake handle
Shimano BL-MT200
Discs
160 mm \ 180 mm
Wheels

Wheel
26"
Rims
Double wall aluminium / Magnesium
Tires
Kenda 26" x 2,125"
Spokes
Carbon steel with copper reinforced heads / Rigid Magnesium
Front hub
Quando

Handlebar and Saddle

Stem
1"1/8 Ahead 25,4mm Folding
Handlebar
City/Comfort Double Height
Headset
1"1/8
Saddle
BLK spring
Seatpost
XL - Promax suspension / M - Promax suspension / S - Classic

Accessories

Front Light
LED
Rear Light
LED
Pedals
Wellgo Platform plegables
Mudguards
Metal
Kickstand
Kickstand
Luggage Rack
Optional

Dimensions and Weights

Height
104 cm
Lenght
184 cm
Width
64 cm
Handlebar Height
104 cm
Saddle Height
Min: 88 cm / 104 cm
Folded Height
104 cm
Folded Lenght
99 cm
Folded Width
46 cm
CUORE Folding electric bicycle
Description 
The Cuore is a folding electric bike that offers a great set of features at a reasonable price. You'll move wherever you want in a comfortable upright position, reclining on its prominent and comfortable sprung saddle, everything will fit you thanks to the adjustable handlebars, front suspension, and Kenda mixed tires of the widest possible width and low pressure to absorb shocks for a comfortable ride and a pleasant user experience.
The frame is made of 6061 aluminums with a 5-year warranty and has a clever and sophisticated folding system, a great idea for storage without taking up space or so that we can take the bike anywhere, without limitations. One of the advantages of the Cuore, apart from being able to fold, is that it has an open frame and a 26-inch wheel, unlike the other conventional models that have a 20-inch wheel, a feature that makes it unique among the various existing electric folding models. 
From the central digital display, we can switch on or off the front and rear LED lights, as well as manage the 5 levels of assistance to manage the electrical system, which can be extended to 9 speeds from the display configuration, we can also obtain all the data relating to the route, as in an odometer, and among many other options, we can limit and unlimited the maximum speed of the electrical system, hidden by a combination of keys and a secret code that only the user knows.
 A high-powered 8Fun motor, delivering 45 Newton meters of power, will easily help you climb the steepest of hills, the motor is integrated into the rear wheel, firmly held in place by steel spokes with copper reinforced heads. 
The battery of the folding Cuore is a Samsung lithium-ion battery to keep the overall weight to a minimum. It is enclosed in an aluminum casing and protected by the bike frame on all sides. The key has three positions, on, off and in the third position, you can lock the battery and remove the key so that no one can remove it without your consent.
The battery is removable for charging or storage, and can also be charged from its position on the bike if desired. The full standard package offers 36 volts of power and 11 amps of capacity, achieving up to 70 kilometers at the lowest assistance level and 45-50km at the highest (in pedal assist, if you use only the throttle without pedaling the range will decrease noticeably).
  Pedal-assist allows our pedal strokes to work in tandem with the motor, significantly improving climbing power and range. It is also possible to fit a hand throttle to help with difficult starts or for safety, which is not legal to use on public roads. With pedal assist, the PAS sensor located on the bottom bracket sends information to the motor that you are initiating a ride and starts the electric assist.
  This bike's battery power pack sits mid-frame and close to the ground to keep the center of gravity as low as possible, which is ideal for handling and maneuverability, which will help in tricky situations such as passing cars or riding very slowly in rough terrain. On other e-bike models, the thick battery pack is placed on top of the rear rack, resulting in a deadweight that raises the center of gravity and makes the bike feel less stable.
  The design is captivating, at first sight, careful details make this model a unique bike, moving with great comfort thanks to the open geometry of the frame, which keeps our back straight, relaxed arms controlling the ergonomic handlebars, also folding, extra-wide BLK spring seat suspended on the Prom ax suspension located on the seat post, design wings maintaining the overall style of this folding electric beauty, to protect us in any situation.
  The rear rack will allow you to carry your groceries or any other load you need to take with you, working perfectly with saddlebags or a rear pannier.
 The chain guard is very successful and is especially liked, no matter how you're dressed, you'll arrive impeccably at any appointment.
  The set is completed by an advanced Shimano ACERA 8-speed derailleur, and Shimano M375 disc brakes, or Shimano MT200 hydraulic brakes with 160mm discs. The rear derailleur guard works perfectly and will prevent damage to the shifting system.